The 5-Day Hurricane
Love Comes Through the Center of the Historical Hurricane Harvey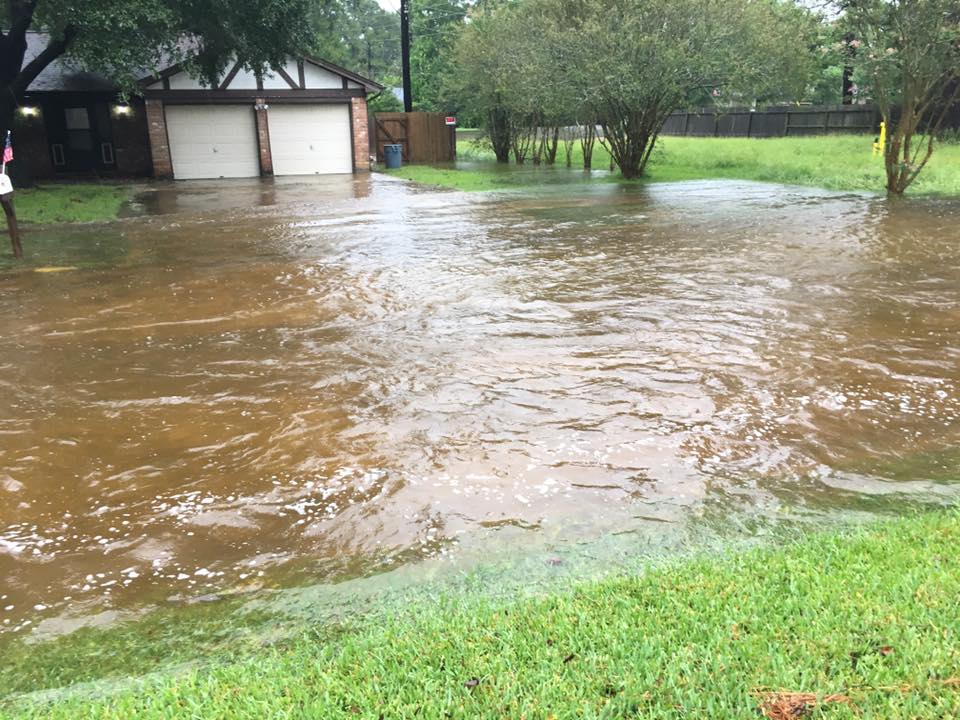 Love comes through the center of the historical Hurricane Harvey.
Day 1
It's Friday, August 25th, 2017, in The Woodlands, a suburb of Houston, Texas.

Hurricane Harvey will be unleashed upon us today. This began as a "tropical storm." It eventually showed its true colors as a Category 4 hurricane. It would be the most costly natural disaster in United States history to date.
The streets outside are eerie. I hear voices of people home but I see no one around. The wind is picking up. The gray clouds blanketing the sky gave an ominous low-lighted glow to the atmosphere, making the environment appear even darker than what we experienced during the eclipse just four days ago.
Businesses are closing. Appointments are being canceled. Stores have little remaining canned food, water, or bread. Mom said that the shelves at the store were bare, all except the frozen section. Our family was lucky to get some fresh bread the employees just put out. We spent the rest of the day taking down hanging plants and moving outdoor furniture, preparing for the hurricane. Meanwhile, a liquor store run was made to retrieve "the important stuff."
Outside, we waited in anticipation for the hurricane to commence. The scorching Texas heat we were used to had subsided. The air felt crisp like a cool fall day! "Takes a hurricane to get us to go outside in August," we joked.
Day 2
300,000 people are without power today.

While many are gathering their things and leaving their homes under mandatory evacuations, our family sits quietly watching the progression of the storm on the news. We see the newscaster in Galveston experiencing 130 mile per hour winds.
They instructed those evacuating to not forget necessities like medicines and their pet's records.
Airbnb asked members if they could open their homes to those evacuating or if they needed a place during the storm. I thought it was great how companies were helping from all around the country.
It's pouring rain and the streets in front of the house are beginning to flood.
We had brakes in the rain throughout the day, which allowed the water build up to recede.
Not realizing the severity of the road conditions, my father drove into work, which wasn't too far from the house. A few hours later, the weather was worsening. He realized he needed to get back home while he still could. The torrential downpour blocked views of the edge of the overpass. Almost drowning as a child brought anxiety to an already potential deadly situation. When he arrived back, he was cold and shaking from the dangerous drive.
Disastrous Flooding Builds in the Neighborhoods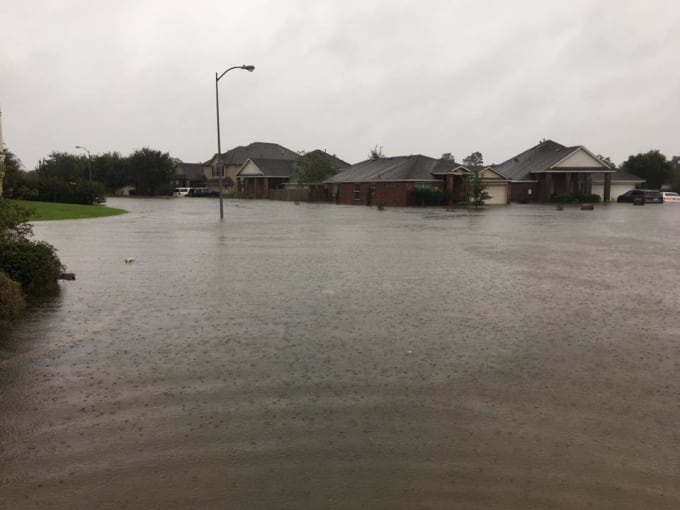 Day 3
All television channels covered the storm. We get repeated flood warnings on our phones throughout the day and night. The Houston airports have grounded all commercial airlines. No one gets in or out. We can hear the Blackhawk helicopters sent in to perform rescues. It sounds like a war zone.

We are so lucky to be in between bands of rain and at higher ground. My father looked at me, a little stir crazy, took an adventure out to see how the flooding was in our neighborhood. The subdivision reservoir has flooded over the banks but our house is far enough away that we should be fine.
We have been watching the news all day. People are concerned about looters taking advantage of the situation. But it has not been as bad as Katrina.
The news showed this place in Galveston where Air Force planes were taking people to shelters in Dallas. In this same location, they interviewed a lovely woman. "It has been like hell," she said. She lost everything and got separated from her family.
"Momma's okay," she told the camera, hoping her children would be watching. The woman ended with, "I feel okay though because I love God. I get nervous sometimes wondering if He's still around, but He is."
We figured that we should be prepared in case the flooding got bad during the night. We don't have a second floor, so we gathered a case of water, our one sleeping bag, and some pillows to put in the tiny attic. We opened six large trash bags so if the water got close to the house, we could fill the bags with blankets and make a barrier at the doors. Dad put a hammer and chisel in the attic also because people have died during floods getting trapped in an attic. We would need to have a way to get on the roof.
Some had hours to prepare as water crept up and others had only 30 minutes to evacuate while the water rose. We went through the house to find anything meaningful we needed to get off the floor. After gathering a few things like money, laptops, and a couple home DVDs, we realized that nothing else was really that important, just our lives.
At night in our beds, we could hear the gusts of wind against the buildings and the thunder in the sky. I remembered the homeless dog we saw taking a walk down the street. I wondered how he was fairing in this scary storm.
Day 4
The weekend has passed. We thought the worst was over, but they were predicting 12-20 inches of rainfall on top of what we already have.

The rain got as high as 50 inches in some areas by the end of this.
The news did such a great job sharing how many wonderful people are out rescuing others. Many online were also helping to share phone numbers for those who may need help and a way to get in contact with relief organizations for those wanting to help.
Day 5
Dad got very sick last night. He had a 103 fever. Mom wanted to take him to the hospital but there were too many difficulties. They'd probably be quite busy assuming you could get there. He was throwing up and had the chills. We didn't know what was wrong. A couple friends and I prayed for him to get better.

In the morning, Dad wasn't at 100% health but he did feel a lot better, so he went into work.
The power went out right as I finished my shower and my mom got coffee. Not the worst timing. Luckily, we prepared for this by eating most of the ice cream we had over the weekend. We wanted to have breakfast though, so we compiled a list of what to grab from the refrigerator so I could race to open it for the least amount of seconds possible, hoping it would keep what was inside somewhat cold. It was tough, but we managed. Thankfully, the power came back on in only an hour, so none of our food spoiled.
During Hurricane Ike in 2008, many people were stuck on the road in an evacuation gridlock as the hurricane raced through highway 45. This time around, city officials ordered minimal evacuations while instructing most to shelter in place to avoid road gridlock. 17,000 people sought shelter during the storm.
Those that ended up flooding without time to evacuate would be rescued in boats and helicopters. All over the news, we saw civilians with boats out in the rain going to rescue strangers.
Donations Piling up at Local Churches for Disaster Victims
Day 6
The storm has for the most part subsided but there were still some warnings of more rain. Businesses aren't back up and running yet. The floodwaters are still very high. This is the day they can really begin to recede.
People are getting out today. Going to the grocery stores to get food. Many are going back to work already — if they still have an office to go back to.
The relief efforts are beginning. It seemed many needed help getting stuff out of flooded homes, doing laundry so mold doesn't set into clothes, or even having their pets or children watched since the schools closed all week.
The Bush International Airport started opening back up their operations. Many airlines gave customers with flights at the affected airports within a date range the option to reschedule or make a different flight, which was very helpful.
You'd think we would be well-rested and ready to get to work after all this time at home, but truthfully, we were all exhausted from the stress of the stretched-out event. Most hurricanes move quickly through and disperse going north on land. But Harvey moved at the snail pace of 2-3 miles per hour and hugged the coast, which is why our problem came to be the consistent heavy rainfall causing flooding.
Day 7
Volunteering at The Woodlands Church, I was impressed to see the efficiency of the shelter and donation distribution center set up. There were meals prepared for shelter guests in the café and tons of volunteers sorting clothes and other items while cars lined up to make donations. Many of the guests were volunteering to help as well.

People and organizations in the area aren't the only ones helping. Many teams came in from out of state to perform rescues. My bank sent out notices that if you were in the affected area, call them and they will work with you on paying your bills. A friend of mine had developed a therapy technology chatbot for those with mental health concerns. He asked me to distribute his product for free to provide aid to those who were impacted by the flood but cannot afford private psychological help. This is the link to his free product. You can chat with Sara on Facebook here.
Wreckage Fills the Streets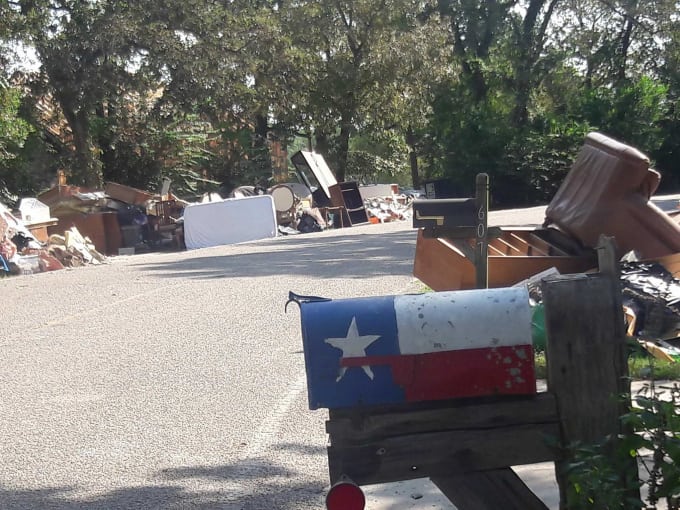 Conclusion
In addition to the public heroes you may have heard about like Mattress Mack or Joel Osteen of Lakewood Church (among many other churches) opening their doors as shelters to flood victims, it was amazing to see all the heroic efforts of ordinary citizens. Trucks with boats lining the roads coming in to rescue people, shelters opening up, donations coming in, and volunteers coming from every corner to clear flooded houses. It's such a beautiful thing to see, all this love coming out of the disaster. That is the center to the heart of this story.
My family got very lucky. Many others did not have as much fortune. Tons of families were separated and lost their homes. Some people even lost their lives. As I'm writing this article, many are pulling up carpet, tearing out dry wall and taking up sheet rock, trying to salvage what's left of their home. We are counting our blessings and thanking God for His protection through the storm. It could have been so much worse, but we had countless prayers.
The news showed that Hurricane Irma is a week out.
"If it enters the Gulf of Mexico," Dad said. "We are leaving. I'll lose my job and I don't know where we will go, but I'm not staying for another hurricane."
Returning to church, I spoke with a friend who was flooded. She greatly inspires me. She and her family held a great spirit of joy through all of this wreckage. We got into a conversation that became almost as deep as the floodwaters in front of her apartment. She thanked God for giving her such joy through the hardship.
It's weird seeing people post trivial issues, opinions, or even fun things on social media when there are people who have lost everything. But then, people in Venezuela struggle with worse issues daily while most in the world ignore them. When it's close to home, it's close to home. That's just how it is. This disaster at our doorstep certainly gave me more faith in the good of humanity and how we can come together under tough conditions.
Harvey dumped more rain than any other storm or hurricane in US history. Yet there was certain calm during and after the storm.
It's always calm in "the eye" of the storm. I like to call it "the heart" of the storm. The center. Where you can see everything around you. I believe many who know they are in the heart of God always feel calm during the storm. They feel a sense of peace. People all over the United States and the world were praying for those in Houston and the surrounding areas. We felt those prayers. Amongst all the rescues, I saw no panic, no one trying to take someone else's boat for fear of their own lives, no one hurting others in the midst of a disaster. Instead, everyone united and helped one another. There was calmness through the whole week, through the good and the bad, that was felt in the presence of God's hand holding us up above the waters, flooding our hearts with love.