How to Help Your Kids Be More Creative
Teach children art and DIY.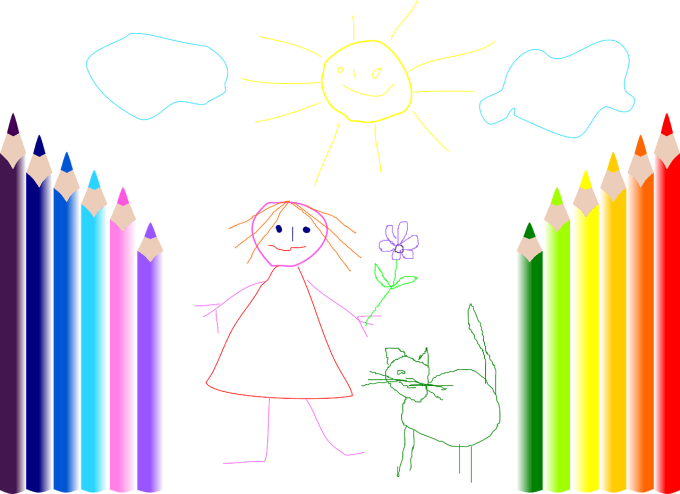 Creativity is so important, for adults and for children. Without creativity, I don't know how I'd get through each day. Luckily, my mom allowed me to be creative when I was a kid and pushed me to use my imagination. I come from a family that reads a lot as well, and I think that also helps drive creativity.
When it comes to helping your kids be more creative, it starts with getting them off their phones and away from the TV screen. After you've managed that, it's not really a difficult task. Here are some of the things you can do with them to help them find their creativity. Learning to be creative at a young age will open up more opportunities for them as they get older as well, because all the best jobs require some form of creative thinking!
Create with them.
Next time you schedule a family night, make it an arts and craft night. Create something together. Even if you aren't the most artistic or crafty person, your child will build some amazing memories from this time together, and you just might gain a new hobby, yourself.

There are all sorts of creative things you can do, from painting to making dried noodle art. If your children are toddler age, consider doing some finger painting with non-toxic paints (or look up ways to make your own finger paints with stuff from your pantry).
Take art classes/crafting lessons.
Check your local library, tech center, and hobby stores to find out about art classes you can sign your kids up for, or that you can do with them. If you have a Home Depot in your area, they often have kids' crafting events. Your child might get the chance to learn how to make a birdhouse or something as cool and creative.

Talk to other parents you know and consider creating your own art or crafting classes. It's a great way to get to know your child's friend's parents and let your children spend time with their friends while doing something more creative than clicking on a game controller.
Encourage them to read and write.
Don't forget that writing is an art form. Most children are blessed with vivid imaginations. Teach your child to record theirs and you'll be amazed at what they come up with. Write with them, give them some writing prompts, and teach them different types of writing and poetry.

Reading inspires writing, so make sure your kids read. Read to them until they can read themselves. Don't discourage them from reading books above their grade level either (it's a great learning tool and will expand their vocabulary)!
Encourage them to make believe.
Don't hinder your child's imagination. Help it grow. If they want to build a castle out of boxes and pretend they are royalty, let them. Be the dragon the knight has to defeat to win the maiden. Play with them, imagine with them, create alternate realities with them. It's these children that will grow up to be the movie makers, book authors, video game makers, and TV show creators of the future.

Go to art galleries, museums, and craft shows
Take trips to local art galleries, art museums, and craft shows so that your children can see the different types of arts and crafts there are. You'd be amazed at how much inspiration they'll find in these places, and the inspiration you'll find as well.

When you're at arts and craft shows and your child finds an affinity with a certain craft or piece of art, within a reasonable price, of course, buy it for them. You'll notice that when your home has some art and some handcrafted items lying around it can be kind of a muse.
Give them supplies to be creative.
Don't forget that you need supplies in order to be creative. The more supplies you have, the more likely they'll get used. Pick some specific things to start with, maybe some crafts that you're interested in, as well. This way, if your child gets bored, the supplies won't go to waste! Crayons, markers, art paper, and coloring books are always great for beginners.
Create a craft corner in your home. Have a desk, some storage drawers, and some inspiring art displayed in this area. Remember, just like all things, if the arts and crafts items are out-of-sight ,they'll be out-of-mind, too!