Families is powered by Vocal creators. You support
Misha Alsleben
by reading, sharing and tipping stories...
more
Families is powered by Vocal.
Vocal is a platform that provides storytelling tools and engaged communities for writers, musicians, filmmakers, podcasters, and other creators to get discovered and fund their creativity.
How does Vocal work?
Creators share their stories on Vocal's communities. In return, creators earn money when they are tipped and when their stories are read.
How do I join Vocal?
Vocal welcomes creators of all shapes and sizes. Join for free and start creating.
To learn more about Vocal, visit our resources.
Show less
Gifts for Kids $15 and Under
Getting gifts for kids can get expensive, but it doesn't have to be.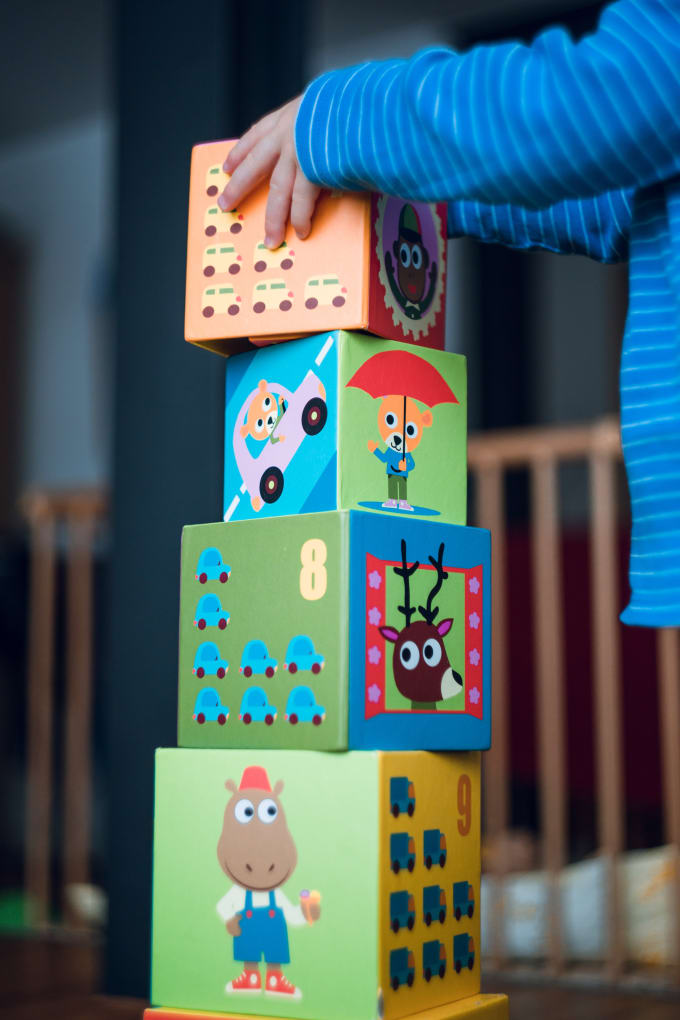 Whether you are shopping for your own child, multiple children, or a child you know, gifts can get expensive and add up quickly. It doesn't have to be so expensive though, especially since most kids are easy to please.
Kids are also typically the most grateful and loving individuals ever, though some of that is in how they are raised.
First and foremost, I want to introduce something that I came across on Facebook.
Memories and Experiences vs. Material Objects
This is something that I wish I had learned about sooner, having a five- and six-year-old myself. I wish that I would have started sooner than this year, but think about what you can get a child that provides a memory and experience over a material object.
Some of these would quickly go over $15, however, it is still manageable to find things that stay under budget while still providing fun experiences and memories—instead of toys that will be discarded in a few months or a year.
A great example is a gift card or certificate to a children's museum.
Our local children's museum is only $5 admission, but I know bigger ones in bigger cities that go up to $12 and perhaps higher. Children's museums normally have fun experiments and hands-on activities for the kids.
Sticking with admission, you could also buy gift certificates to national parks for hikes, picnics, or camping, or admission to your local zoo.
Ready for the rest?
If you aren't really looking for that, or it just doesn't fit your idea of a gift, that is totally okay! Here are some other wonderful gifts for a child in your life that are under $15. I did include a couple of toys for the younger kids such as three- to 12-month-old babies.

Play-Doh Fun Tub ($10)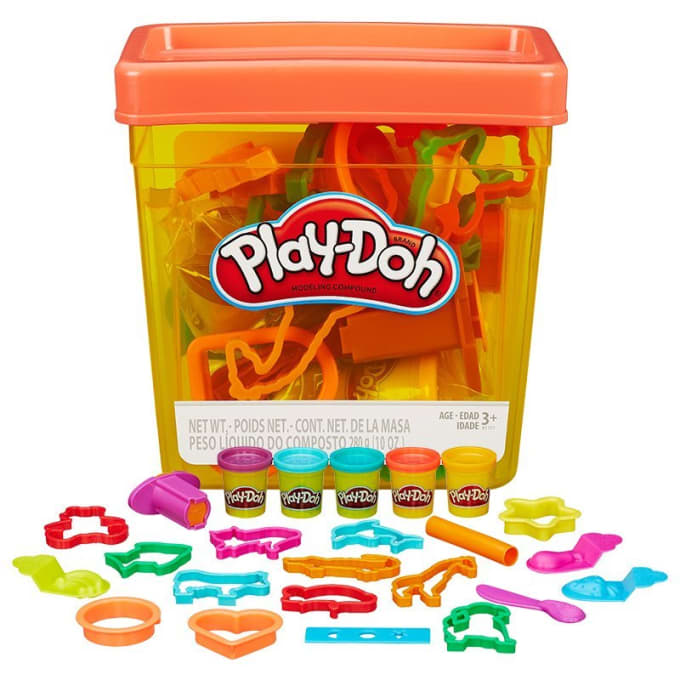 This kit includes a jackpot of Play-Doh for a great price: A rolling pin, two fruit molds, one animal mold, 11 shape cutters, a plunger with design slides, and four small Play-Doh tubs. These aren't full-size, but they aren't the mini really small ones either. I think they are 4 ounces. Oh, not to mention, the storage tub with the lid! Great for kids three and older, it'd be a great addition to a collection for a true Play-Doh lover.
You can buy it here.
Encourage discovery and outdoor play! ($13.40)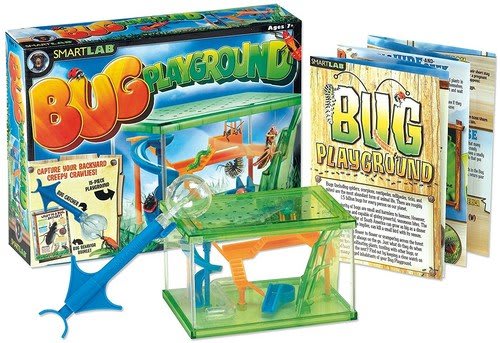 Kids are full of energy and are naturally curious, so encourage discovery, outdoor play, and learning! This bug playground comes with its own instruction manual and idea book. It's packed with information about common bugs and goes over bug safety. It includes a translucent catching tool, as well as an enclosed bug playground so your bugs won't be bored while you are studying and watching them. It's hours of fun, and sure to be enjoyed several times over!
You can buy it here.
Robo Alive Pets ($8 to $13)

If your child likes animals and robots, or even just one of the two, this is a great gift! The pets are life-like and have unique features. They have the lizard, black widow, and a snake. The lizard walks around similar to the real movements of a lizard, tilting his head for prey and it interacts with play. This a quality toy for an affordable price.
Magnetic Blocks ($13.99)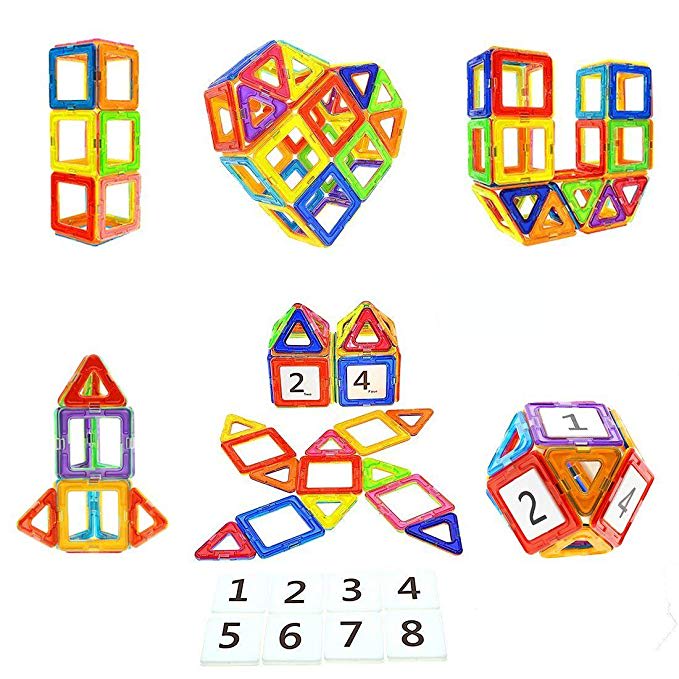 Magnetic blocks are a great STEM toy and activity. The possibilities are endless, and it helps kids get creative and use fine motor skills. This is a more complete set with 24 magnetic pieces—plus number squares for added fun and learning.
You can buy them here. For a limited time there is also a 5 percent off coupon, but those coupons do disappear and expire.
For the Little Learner's: Learning , Music, Fun ($14.99)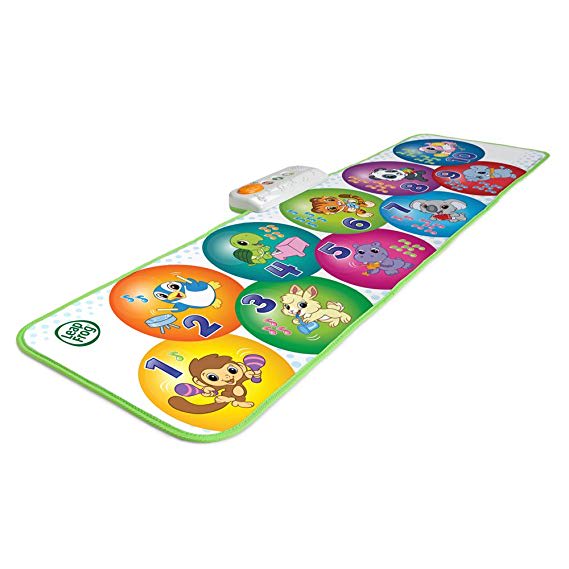 Leapfrog is a known and trusted brand of toys. This mat supports little ones to walk across it by triggering music, having fun while teaching your little one their first 10 numbers. Skills learned include gross motor skills, music and rhythm, and numbers. Twist, dance, leap, laugh, count, and learn with the Learn & Groove Musical Mat—designed especially for active toddlers. Keep little ones moving and exploring with over 50 songs and phrases, as well as three ways to play. This toy requires three AAA batteries that are included, however, Leapfrog recommends replacing them as soon as possible.
You can buy it here.
Safari In Your Yard ($12.99)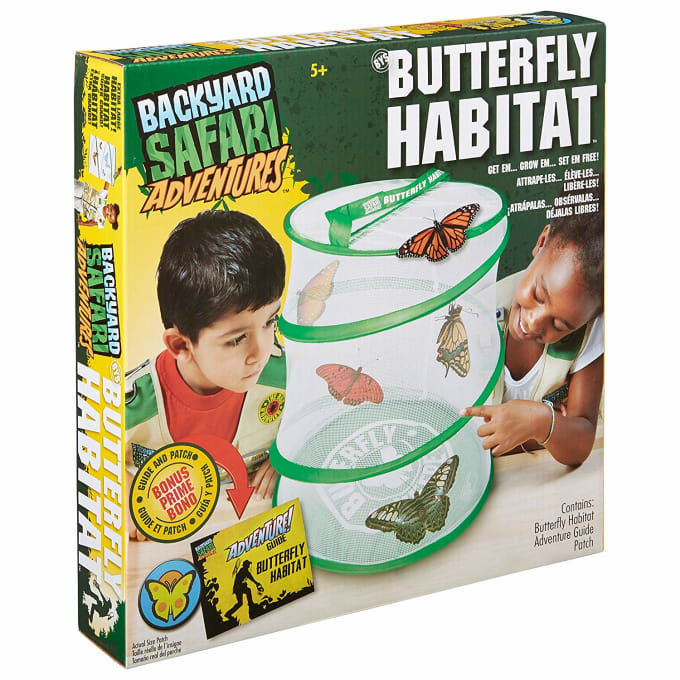 Bring nature into your house then your yard! This gift is perfect for kids between six- and 13-years-old. It gives them the chance to get up close and personal with the life-cycle of a caterpillar and butterfly. This kit includes the enclosure, a guide and, a patch. The caterpillars do need to be bought separately for an additional $8, however, that doesn't mean you can't gift the enclosure to let the child and parents decide when to complete the fun activity.
You can buy the enclosure kit here, and the butterflies here.
Imagination and Hard-Work ($14.99)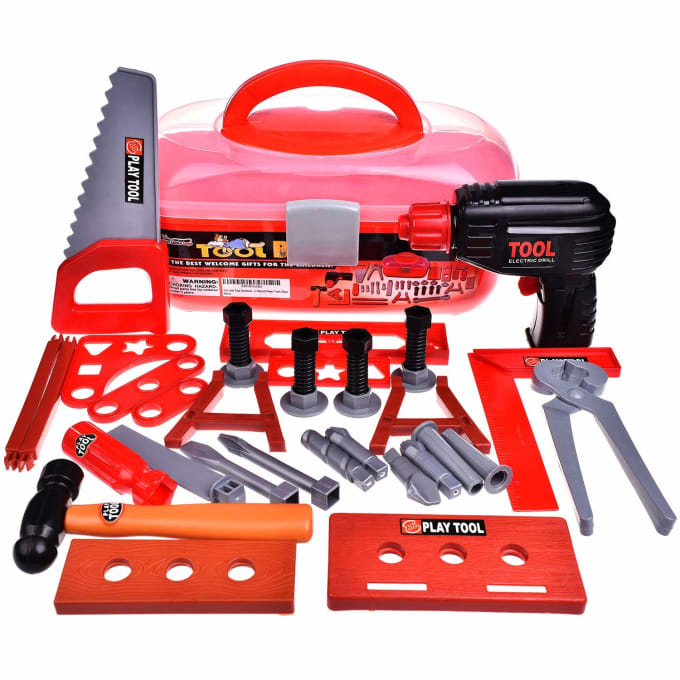 This tool kit is great for boys and girls, alike. If they show an interest in building and working hard, encourage it! This provides tons of creative imagination, play, and allows for kids to sharpen fine motor skills. Who knows... maybe it'll inspire them for future careers?
Either way, you can find it here for your little builder.
Junior Explorer ($14.99)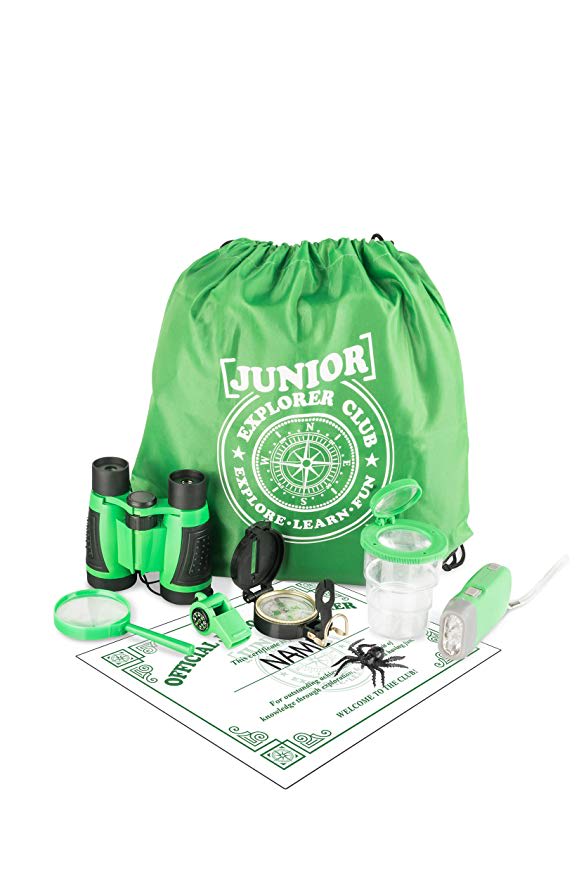 There was an article I read a few weeks ago that said that kids have become the indoor generation. I don't know about anyone else, but to me that's pretty sad. Encourage more outdoor time and welcome your young explorer to the Jr. Explorer Club! The Jr. Explorer Club is passionate about young explorer development and learning using exciting techniques. The 9-piece explorer kit is perfect to accompany outside exploration while visiting parks, a zoo, backyards, camping or hiking.
STEM-Certified: The explorer kit is STEM Certified in science and engineering. Junior explorers will enjoy nature exploration to learn about insects, plants, animals, and birds. They will also learn to engineer while reading a compass with navigational directions. High quality, all inclusive, nine-piece children's outdoor toy set with a club certificate, child-size carry bag, 5x30 binoculars, lensatic compass, bug catcher with magnifying glass top, battery-free LED flashlight, whistle with compass, and magnifying glass.
You can find this awesome set here.
Cha-Ching! ($14.95)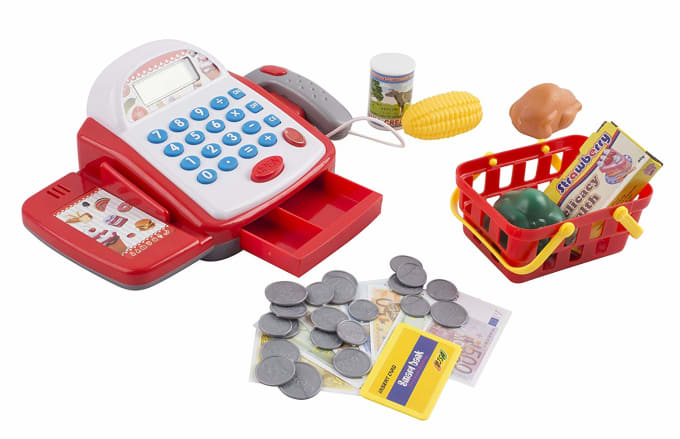 A real-like cash register toy play set with LCD display, Toy Cash Register will teach your child basic math skills like counting. A cash register toy, your toddler will love to add, subtract, divide, and multiply.
The pretend play supermarket checkout set includes a conveyor belt, credit card scanner, microphone, grocery basket, and fake money!
(This toy does require two AA batteries that are not included.)
You can buy it here.
Crayola Create & Carry ($14.99)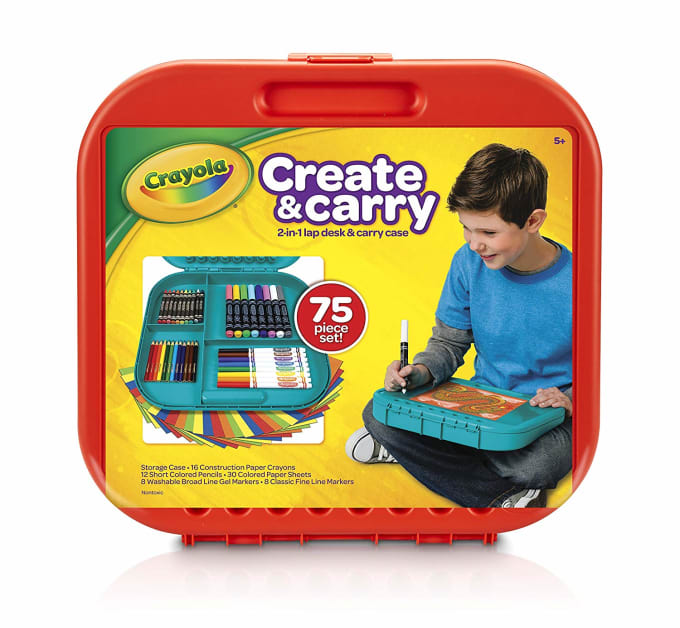 This carrying case has the following art tools for the budding artist or coloring enthusiast. Included with the storage case and lap desk are 16 pieces of construction paper, crayons, eight washable Gel-FX markers, eight classic fine line markers, 12 short colored pencils, and 30 more sheets of construction paper. The storage lap desk keeps things clean and organized. It's great for kids ages five and up!
You can buy it here.
Kid Tech ($12.99 to $15)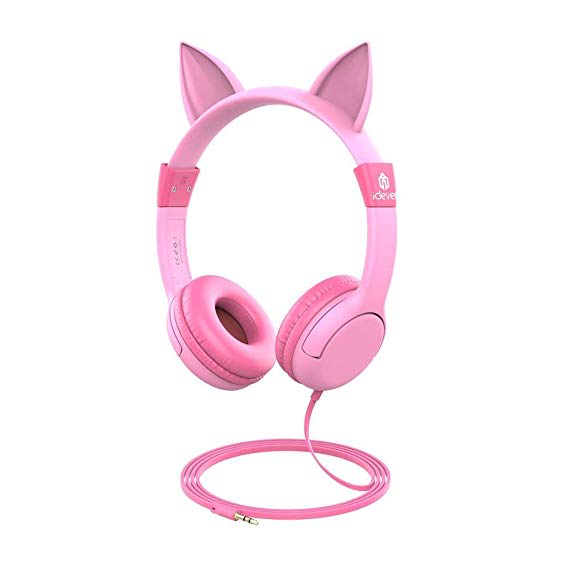 It's not a new revelation that more and more kids play with technology, but it's also not new that, for whatever reason, some shows and games have the most annoying music, songs, or sound effects... but our kids love them. We of course are inevitably cursed with having them stuck in our heads. For girls, I recommend these adorable cat ear headphones and for boys they have Licensed Batman headphones! There are other animals under the link for the pink cat ears, you just have to select which ones look the best to you to best fit the child you are shopping for.
You can find the pink cat ears (or other animals) and colors here, and then the Batman headphones here.
Style Me Unicorn ($14.99)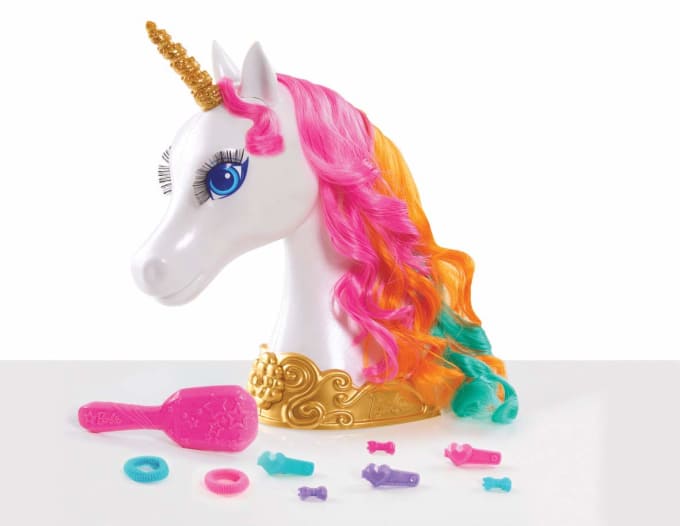 Bring home the magic of Dreamtopia with the Barbie Dreamtopia unicorn styling head! This iridescent unicorn features long eyelashes, a gold glittered horn and beautiful rainbow hair that is perfect for brushing and styling. Little dreamers will love brushing, braiding and pinning their unicorn's hair into fabulous styles with the star printed hair brush and colorful barrettes. The full set includes one unicorn styling head, one hair brush, three large barrettes, three small barrettes, and two hair ties.
It's the perfect gift for little girls with big imaginations!
You can buy it here. 
All of these are a great start for gift giving for the kids in your life. Keep in mind that kids are typically very happy and gracious with anything that they receive no matter the cost. If you liked these, but it's not quite what you were looking for, here's a larger collection of toy ideas that are $15 and under.
One thing that I would like to note is that websites, especially Amazon can change prices at any time. The prices are valid at the time of publishing this, and if prices have gone up I am sorry. I still hope you are able to find the perfect toy for the child in your life.
Wrapping
Let's look at some fun and unique ways to wrap gifts for kids!

The Unicorn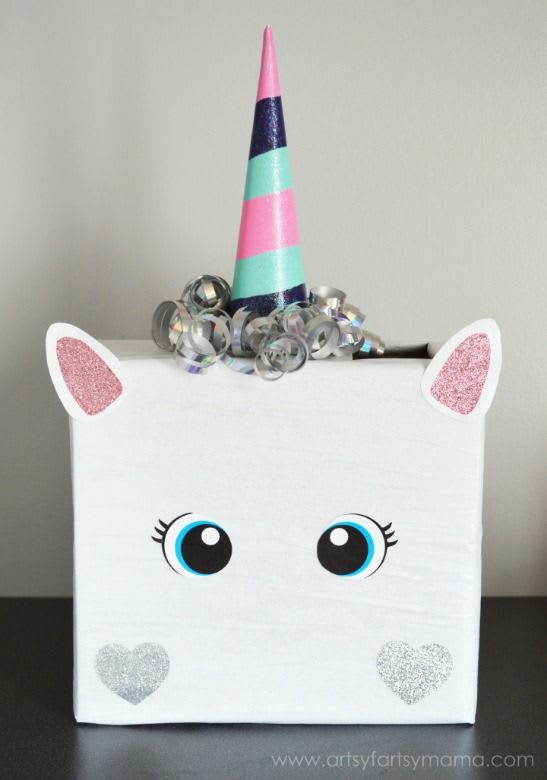 Grab a party hat, some ribbon, either some paper eyes or googly eyes, and some construction paper for the ears—and create your unicorn. Here's an example to help guide you. =)

The Presentsauras-Rex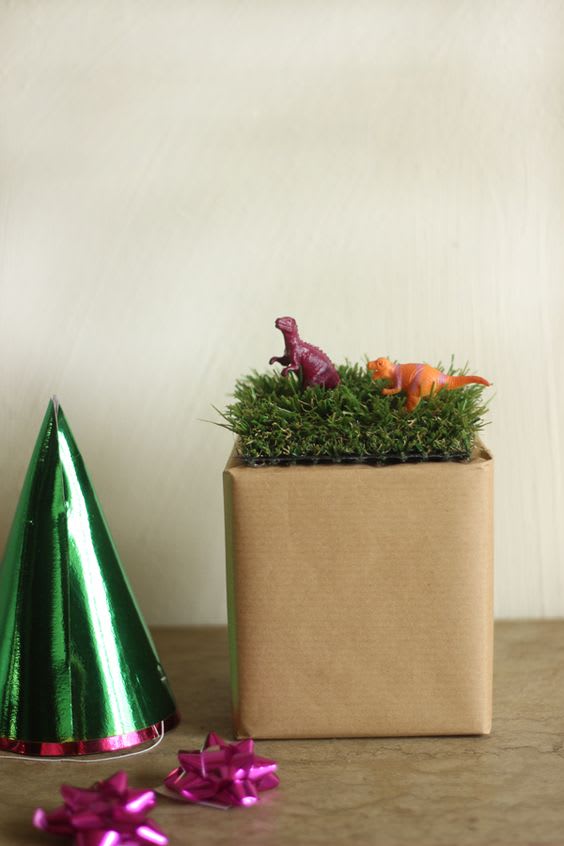 Some brown paper, floral grass, and dinosaur figures are all you need to pull this cute look together! The dinosaurs can easily be found at a dollar store and the floral grass should be easy to locate at a craft store. Great for birthdays, holidays, and baby showers!
The Snowman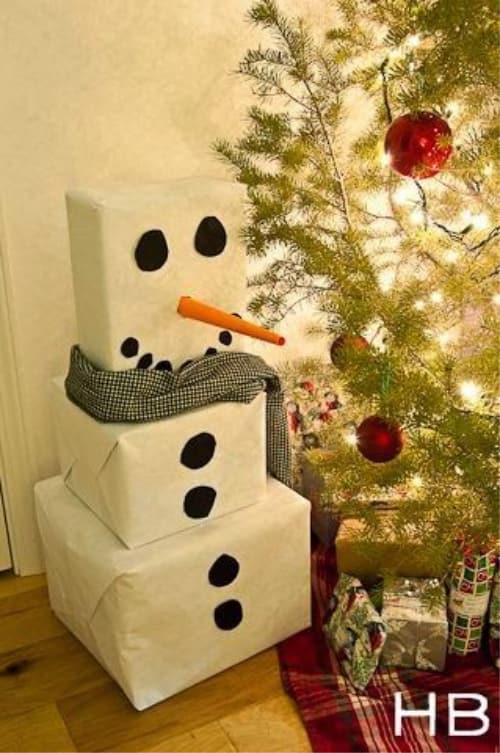 Grab some white wrapping paper, felt to cut into circles for eyes, buttons, and old scrap of fabric for a scarf—and create a cute present stack for the little in your life. The nose is rolled up orange paper secured with hot glue.
Personalized and Unique
Brown paper, string, and some scrapbook paper with scissors, and maybe a stencil, is all you need to pull this look together. If you are handy enough you can cut the letters out without a stencil. I, however, am not. So stencil it is for me! Then cut the letters out, wrap gift in brown paper, and place and time string. Then use double-sided tape to secure the letter. No name tag needed and they look personalized and unique.
Thank you for reading, and keep your eyes out for my next two gift guides, which include gifts for the man in your life, as well as gifts for the woman in your life.
Christmas toy ideas here.